Even though winter months have just barely begun, for gardeners, it's time to start thinking about spring! Growing plants from seeds is an exciting and fulfilling undertaking. If you haven't done it before, Glover Nursery is here to help. Utah gardeners now's the time to start your seeds inside (also known as seeding indoors). We've got you covered with all the tips and tricks (& seeds!). 
One of the best benefits of growing from seed is that you have more options than you do when you transplant. If you're looking to grow a lot, it's typically cheaper too. You can start all sorts of seeds indoors, including broccoli, brussels sprouts, cabbage, lettuce, and tomatoes to name a few favorites here at the nursery. As for vegetable gardening, seeds that have a slower root development, like cauliflower, eggplant, and peppers, also benefit from being started indoors. But it doesn't have to stop at vegetables! We have a HUGE selection of seeds from veggies to fruits to plants and flowers for your garden. Visit our Utah garden center to see the entire range of hundreds of choices. 
You may also check out: How to Plant Seeds for a Home Herb Garden
How to Get Started Planting Seeds Indoors?
First, you'll want to decide exactly what you want to grow. You can visit our nursery or read through seed catalogs for inspiration. Some questions to ask yourself are what does your family love to eat? What does your family NOT like to eat? How much sun do you have available? How much space do you have for gardening? These questions will help you narrow down the variety of seeds you pick. We've all been in a checkout line with 15 seed packets for our aspirational and smart gardens and nowhere to really plant them. 

Once you have your list, choose your containers for your indoor plant. You can opt for traditional seed flats or trays, but we have also seen some very creative upcycling ideas such as

egg cartons and yogurt cups.

Depending on what you have laying around the house or containers you have an excess of, you can use those!

Next, you'll want to do this VERY important step. Before you get to planting, label your containers! It can be such a pain to later realize you don't know what a certain plant grows once it has started sprouting. 

Fill the containers you have chosen with an all-purpose potting mix or seed compost. With your fingers, make a shallow hole (the ideal depth should be listed on your seed packet as well as any other pre-planting needs the seeds may have). Then press the seed into the hole and add some extra soil on top. Repeat with each container. 

Moisten your seedlings with water, don't use

too much or too little

. A tool such as a turkey baster can be used to make sure you're watering the correct amount. 

Finally, cover the trays loosely with plastic or something clear and waterproof and poke holes in it to keep your plants from drying out too quickly. 
You can refer to this planting calendar for the ideal planting time for your seeds. 
Other useful links: Seasonal Tips: Seeding for spring
Watch Your Garden Seeds Grow
Keep your pots moist and check them regularly. Once you start to see sprouts, move the containers to a light source like a window or indoor grow lights, if you have them. If you place them by a window, make sure to regularly rotate your containers so the plants are getting equal amounts of light. Keep making sure you are not over or under watering your plants. 
Signs of Overwatering: Yellow wilting leaves, mold or mildew, stunted growth. 
Signs of Underwatering: Soil pulling away from the container, brown drying leaves.
With a little bit of TLC, you'll have healthy sprouts in no time, and come spring you can plant them in their more permanent home: your garden! If you ever have any questions about growing seeds or any other gardening matter, reach out on social media, give us a call, or even better come and see us at our nursery and garden center in West Jordan, Utah.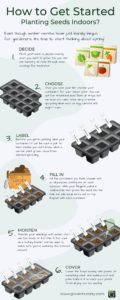 Other useful links and resources:
Busting Myths About Planting in the Fall
It's the holiday season..but wait! Don't forget to winterize your outdoor fountain for the season too. This past year so many gardeners have added water features to their yards. We love the visual calm that a fountain can add to a space and the sound is delightful. Bud did you know that you have to tuck your fountain in for the winter? We've received lots of calls asking about how to properly winterize your fountains, so we put together a step-by-step process to help you out. 
Step One: Drain Your
Outdoor Water Fountain
The first thing you need to do is drain your fountain. Most fountains will have a plug or rubber stopper in the bottom reservoir so all you need to do is find the stopper and pull it out allowing the water to drain. Then leave it unplugged. If your fountain does not have a stopper you can use a shop vac to remove the water out of the reservoir and all other areas of the fountain with standing water.
Step Two: Dry Your Fountain
Next, you will need to dry and clean your fountain. Make sure to completely dry any remaining water with towels or rags. We would also suggest placing old towels or blankets in the bowls to absorb any moisture that may end up in the fountain over the winter from any precipitation or condensation. 
Step Three: Cover Your Fountain
The last step is to cover your fountain aka tuck it in! We suggest using a cover made specifically for your fountain so that it fits properly. If you do not have a cover or have access to one you may use a tarp. Just make sure the tarp doesn't have holes in it! You may need to take the top finial down and place it in the bottom bowl to ensure it doesn't get knocked down during or after the tarping process. Place your cover or tarp over to protect your fountain and make sure it is straight and taut, giving no chance of water or snow to pool on the fountain cover. Secure the cover tightly to the fountain with bungee cords or string.
Over the course of the winter months, we also suggest periodically checking on the fountain to make sure your cover is still securely fastened. Take special care to check on them after it rains or snows. 
We are always happy to answer any yard or gardening questions you may have. We cover relevant topics and answer your questions every week during our Facebook live, Ask Erica, so make sure to join our Facebook Group so that you don't miss out on them! You can also send us a message, give us a call, or come down and see us in person! 
Happy Holidays!
Other useful links and resources:
Best Plants for Your Winter Garden
How To Recover From Winter Burn Without Replacing Your Plants
At Glover Nursery we carry hundreds of trees so it's difficult to pick a favorite, but we do love Maple trees a lot. Recently, we compiled our Top 12 Trees to Plant in Utah, and a couple maple varieties made the list because they are so suited for Utah's planting conditions. There are a million other reasons why we love Maple Trees, one of them being how many types of Maple trees there are!
Fun Fact: Maple Trees are ancient trees dating back over 100 million years ago. That means when dinosaurs were roaming around, there were maple trees! 
Here Are Five More Reasons We Love Maples: 
There Are So Many Varieties
Did you know that there are over 128 varieties of maple trees all over the world? They come in all different shapes and sizes. Some people grow Japanese Maples as tiny Bonsai trees to keep in their home while other Maple varieties can grow over 100 feet tall. Other popular varieties include Sugar Maples and Sunset Maples. With so many choices, there's a Maple variety suited to any type of landscape project for your garden. 
They Provide Shade
A large variety of Maple trees are an excellent source of shade. Shade trees are beneficial to you and your garden and yard for multiple reasons. Not only will you have a cool place to sit and enjoy the outdoors, but if you position the tree near your home, it can provide shade to an AC Unit and reduce the cost of running it. 
Their Magnificent Fall Colors
Who doesn't love the bright reds, oranges, and yellows that fall brings. Some of the best fall colors that attract leaf peepers from near and far, come from Maple trees. They are the true super, stars of autumn. Planting a maple in your yard ensures it will be an autumn wonderland that will provide joy for years to come. 
Maple Tree Seeds Are So Fun
Whatever you call them, whirligigs, helicopters, or twirlies, watching a Maple's seeds spin around in the air as they float to the ground is fun for all ages. 
Bee's Love Them
We don't need to tell you how important bees are for pollination. In early spring when bee colonies are in need of food, certain varieties of Maple trees, like Red Maples, are a vital source of pollen and nectar for honeybees because of their early blooming. 
Make sure to come down and visit our garden center to see how many types of Maple Trees we have and pick one (or a few!) out for your yard. We also offer delivery and planting services to make it even easier for you. 
A lot of people ask our team which are the best trees to plant in Utah.  It is never an easy task to choose only a handful out of the hundreds of trees we carry, but, we've done it.  Below are Glover Nursery's Top 12 Trees that are great choices for Utah's climate and soil conditions. 
All of these are in stock now.  We will continue to bring in more fresh plant material throughout the growing season; we don't stop until winter is upon us.  So, if you are looking to add to your landscape, now is a great time to plant a tree for instant summer shade, the coming fall colors and beauty for years to come.
Oh - and if you want a tree but don't want to do the hard part, we offer delivery and planting services to make it super easy for you. 
Evergreen Trees for Utah
 Austrian Pine

While the Austrian Pine is native to Austria and the surrounding areas, it is a hugely popular tree in Utah and does extremely well in our conditions. At maturity it reaches a height between 50–60 ft with a spread between 20–40 ft. It's an extremely hardy tree that can handle heat, drought, alkaline and clay soils.

Blue Atlas Cedar

Blue Atlas Cedar is a slow growing tree that will top out between 40-60 ft. It's a popular conifer due to its attractive evergreen blue/silver foliage. Once established, which takes 2-3 growing seasons, the Blue Atlas Cedar is quite drought tolerant. 

Bosnian Pine

Deodar Cedar

The Deodar Cedar is native to the Himalayas and gets its name from the Sanskrit words meaning "timber of the gods". These have been documented to have grown up to 240 feet in the wild, but will more than likely reach around 70 feet at maturity with a spread of 20-40 feet in our climate. 

Oregon Green Austrian Pine

Another variety of Austrian Pine, the Oregon Green is another popular landscape features. Short and stout, a mature Oregon Green Austrian Pine will reach a height of about 10ft and 6ft wide.  It has dark, green, glossy needles that hold tight to the branch giving the appearance similar to a

 pipe cleaner

.
Deciduous Trees for Utah
Goldenrain Tree

Goldenrain trees are delicate and graceful in appearance with yellow blossoms and "paper lanterns" dangling from its branches.  Don't let the delicate look fool you as it is actually quite hardy. It will grow to a height around 30-40ft with an approximate width of 35ft. These beauties are native to Asia but made their way to the US in 1763.

Norwegian Sunset Maple

If you're looking for a tree with absolutely stunning fall color, this is your tree. Norwegian Sunset Maples grow to about 35ft tall.  In the autumn, the leaves turn an ombre orange tone that is truly picture perfect. But, don't think the fall is the only season for this tree, oh no!  These

make for a fantastic shade tree in the hotter months.

Pacific Sunset Maple

This is another beautiful fall tree. The beautiful glossy green leaves of spring and summer turn shades of orange, red, and yellow in the autumn. It's a nice medium size tree growing to about 30ft when fully grown. The Pacific Sunset Maple is adaptable to a range of growing conditions and temperatures.

Zelkova (All Varieties)

Any variety of Zelkova will be a great addition to your Utah yard. They are easy to grow, drought tolerant, cold hardy, and used for ornamental purposes or as a shade trees. The Green Vase and City Sprite varieties are two of the most popular in Utah, their unique shapes add some beautiful dimensions to add contrast and visual interest in your landscape. 

Crabapple (All Varieties)

Crabapple trees offer great choices for a smaller yards, in park strips, or as a focal point in a garden bed. Their blossoms and fruit will provide lovely pops of color to your landscape, the spring flowers are truly stunning and the fruit will keep the birds visiting throughout the year.  However, if the fruit is not something you want, we have fruitless varieties as well. These blossoms are valuable to pollinators, plus, there are all sorts of

recipes

you can use with the crabapples! As if that weren't enough, Crabapples do well with Secondary Water. 

Autumn Brilliance Serviceberry

Despite its name Autumn Brilliance Serviceberry is brilliant all year round. In the spring you'll appreciate the sweet white flowers followed with purple berries in the summer.  For their grand finale, they display brilliant autumn colors. These shrubby trees are historically significant as they made their debut to fame having been planted on George Washington's Mount Vernon estate.

Streetspire Oak

As their name suggests, the Streetspire Oak grows thin and tall which makes them more storm resistant. Their acorns attract wildlife and their dark green leaves turn a lovely rusty red hue in the fall.  A great selection for a narrow areas. 
If you have any questions about what tree may be right for your yard, just ask! Our team of experts at Glover Nursery love to help. Before you come into the nursery to pick up your new tree, it is always a good idea to measure the space you're looking to fill, the kind of water the tree will receive (culinary or secondary) and the type of soil native to your yard.  We will work with these elements in mind to make sure your selection will thrive for years to come. 
We can't wait to help you pick out your new tree!
Other useful links and resources:
Real Christmas Trees Journey From Farm To Your Home
How Planting Trees Affects Air Quality
Take a tour with Ryan Glover through our Bulk Product department at Glover Nursery. You can see we have a huge variety of rock, bark, mulch, sand, and more to help your landscape projects.  These products do change throughout the season, so click here to see what is available now.
A couple of highlights include our Glover Top Soil which is our custom blend available both in bulk and in bags. It has the best ingredients in a top soil blend that we carry and you can plant directly into it. It's great for raised garden beds and flower beds.
Another popular product is our River Cobble. It's one of our most popular rocks. They are attractive, smooth, and super versatile. You can use them for landscaping, park strips, water features, and more!
If you're looking to create a safe play area in the yard for your kids or grandkids, Playground Chips or Play Sand are both great options. For a swing or slide play area, lay out Playground Chips. They are soft and will cushion the falls that are bound to happen. Play Sand is perfect for a playground box or sandbox. 
One we like to highlight is Nutrimulch, it is a very popular Utah sourced product. It contains a blend of composted turkey manure and bark mulch which provides many nutrients to help your gardens thrive.
 You can pick up our bulk products onsite with your truck or trailer, or if you would prefer delivery, click here. Either way, we're here to help you make the most of your garden.
Other useful links and resources:
Early Spring Recommended Products\
The heat is here and it reminds us how lucky we are to have beautiful, waterwise perennials in our garden. With the increasing population here in Utah, conserving water is definitely a top priority.
There are many great resources in Utah for guidance on water conservation while gardening.  We've shared many of these programs with you over the years: Utah Department of Water Resources, Conservation Garden Park, USU Extension Services, Red Butte Conservation Garden and Localscapes are all programs or resources we love.  They all have Utah specific guidance with truly beautiful results.
Glover Nursery's own landscape department participates in the Localscape design program.  If you have done a Localscape design, you might have even worked with one of our experts to create your own waterwise oasis!
Our Top 7 Waterwise Perennials
These make our top 7 for a number of reasons: beauty, aromatic, quick to establish, pollinators love them, season round interest, and of course, water-wise.  We were going to just do 5, but it was impossible to narrow the list down that far.
One other plant category to consider are perennial grasses – while it is 'grass', they are not the lawn.  Perennial grasses are waterwise and they add striking visual interest with nice contrast that compliments the blooming perennials listed above. 
Of course, there are loads more waterwise plants to choose from than just these 7 (ok, 8) that will work for your project.  Still, we hope this gives you a good starting point for your new park strip. 
If you're interested in learning more about waterwise solutions for your garden check out the "Flip Your Strip" rebate program. This wonderful program gives an easy way to start moving toward a waterwise yard. You can check out the guidelines and qualifications here.  If you are eligible, you even get money for swapping out your lawn for some truly beautiful perennials.
While they do have a few fantastic examples of how you could design your park strip, the design options are limitless.   
And, as always, if you have any questions, we are here to help.   Come on down and see us at 9275 South 1300 West.
Happy Gardening!
Other useful links and resources:
5 Things To Do In Your Summer Garden
Top 3 Tips for Maintaining Lawns in drought conditions.
As we all know by now, the water situation in Utah is not great which is why we've updated one of our most popular blogs with this 2021 Drought Lawn Care edition.  Most cities have asked their residents to reduce water usage as much as possible, starting with lawn.  The Utah Division of Water Resources' motto for lawn maintenance this year is "Survive Not Thrive" which essentially means that the goal is to keep the lawn alive, but without the expectation of a lush, green lawn in the heat of the summer.
For those of us that love our lawns it is definitely a tricky situation, but there are some helpful strategies that you can put in place to keep you lawn in the best shape possible while reducing water use to the recommended guidelines.
ONE. Be Water Wise
You've probably heard it before but we're going to tell you again. The best way to water your lawn is deeply and infrequently. Utah is already a dry climate, compounded by the drought this season, we want to encourage your grass roots to grow deep.  The deeper the roots are, the better they are at finding and retaining moisture.
The watering guide from the Conservation Garden Park has been updated for 2021.  We highly recommend checking out their website for loads of great resources and information.  On this handy guide, they give specific details on how longto water and how often for different soil types.  Following their recommended guidelines will give your lawn (and trees/shrubs/perennials) the best support with the least amount of water usage.
Be sure to water at the right time of day. Watering during the hottest part of the day means you will lose a good portion of the water (about 70%) to evaporation. In order to make sure that the majority of water you are using gets into the ground, where it is needed - schedule your watering for before 8 AM or after 8 PM.
(Quick Tip: Not sure how to gauge an 1" of water from your sprinklers? It is easy to measure! Take old soup cans or several of the same shape glasses and place them around your yard. Turn your sprinklers on for 10 minutes and then measure how much is in each container. You may find that certain areas of your lawn get more water than others. You can adjust your sprinklers to even out the watering.)
TWO. Cut High
Did you know that cutting your grass too low or by too much can damage it? It's true! Short lawns can look great but you lose the natural protective barrier that a little extra height can give a lawn. For our 2021 Drought Lawn Care Update, the recommendation is to keep your grass cut between 3" to 4". This longer length allows for the roots to be protected and encourages the roots to grow deeper. These factors also help reduce water loss through evaporation.
Another bonus to keeping your grass a little longer is that you can help prevent weeds from growing. Weeds need sunlight to grow. The natural canopy of longer grass prevents sunlight from hitting the ground and can deter weeds from growing. This is not a full-proof plan. If you are having issues with weeds in your lawn you'll want to apply another layer of pre-emergent during the early summer.
So we've mentioned how tall your grass should be but we haven't told you how often to cut your grass in Utah. This is based on how quickly your grass is growing. Once the grass has matured (about 10 days after planting) it will normally grow about 2/3 cm per week (An inch is equal to 2.54 centimeters if you need help with the conversion like we did). You want to only cut about 1/3 of your grass length. Cutting more of the grass could shock it. Most of the green color of grass is concentrated on its new growth. Mowing your lawn semi-frequently means you will keep the bright fresh green showing.
THREE. Add Moisture Retaining Products.
There are a few moisture retaining products on the market that we recommend to help your lawn (and general garden beds) retain more of the moisture and reduce run-off during watering. These products can be especially helpful in 2021 as you're looking to adjust your lawn care for drought conditions.
1 - Revive Soil Conditioner:
Conserves water during times of drought or due to severe heat by wetting the soil deeper which allows your lawn to store more water between irrigations. This product helps to reduce runoff on slopes or due to evaporation. It moves fertilizer deeper into the roots while providing supplemental iron. It assists in breaking up and loosening compacted soil by promoting root activity. Lastly, Revive helps to eliminate dry brown spots and helps turn lawns back to green.
2 - Ground Breaker Soil Penetrant
Fast acting soil penetrant that softens hard soil, increases drainage & eliminates runoff overnight.  Targets and treats hard & compacted soil and is especially good at treating areas where puddles form, runoff occurs and heavy compaction exists in all soil including heavy clay, silt, sand and caliche.
3 - TurfMAX:
Restores the natural balance to your soil with macro and micro nutrients, pH correctors, beneficial microbes and green grass stimulators – for lawns that look lush, green and healthy. This full spectrum formula is easy to use, gentle enough for kids and pets to play after use and provides the optimal balance for all grasses to thrive. Makes lawns easier to maintain and increases health and density of thick green grass. Helps to soften hard soil and increase strong, deep roots. Apply on top – see results fast.
4 - Hydretain:
A single Hydretain treatment can increase watering efficiency by managing root zone moisture throughout the day. In independent tests Hydretain has reduced watering by up to 50%.  It manages soil moisture, extending watering intervals for ornamental plants, turfgrasses, trees, shrubs, and agriculture by as much as 2 to 3 times.
We are here Monday - Saturday from 8am to 6pm and will be happy to help with any additional questions you may have.
Other useful links and resources:
Top 5 Drought Tolerant & Resistant Plants
Summer Lawn Tips for Utah Lawns
How to water your new plants...it isn't as simple as you think!
New plants, just like new baby chicks, or a puppy, take some additional care. Watering your new plants is part of that "extra" process. If you've been following along on our spring blog series you've already found the perfect tree, planted it in the perfect spot using the perfect method and now…..just turn on the sprinklers or emitters and I'm done, right?  Nope, not quite. It's time to learn how to perfectly water your newly planted trees and plants.
New trees and shrubs need to be watered deeply and regularly through the first 2 growing seasons. This helps new plants get enough water to those new roots. Until a plant is established with a full root system, sprinkler water or drip systems do not provide a deep enough soaking to saturate the root ball properly.**
Proper watering will allow the plants to establish a deep and strong root system. The bonus is that when you establish good habits now your tree or plant will require less water long term.  But, in the short term, it is incredibly important to follow a good watering protocol. This will ensure those new plants get the best start possible.
The First Year
Growing season #1 – new plants need regular deep soaking.
First, we should establish what "deep soaking" is.  Turn your hose on a slow trickle and place it 4-6" from the base of the plant.  Let the hose run between 10-30 minutes, depending on the size of the root ball. Deep soaking is the best way to water your new plants.
Deep soaking of a plant in its first year can be broken down into 5 phases.
Phase One
The first week after planting, the tree (or shrub) will go into a bit of shock.  The plant has been getting watered daily in the nursery and now it has been moved, transplanted, and it is in need of some extra water. This will help keep the roots healthy while they start to grow into the soil around the rootball.  For this first week, we recommend deep soaking the new plants every day, saturate the entire rootball so it can feed the tree.
Phase Two
The second week after planting, the plant has started growing into the soil. A pro tip for training the roots to grow deeper is to start adjusting the watering.  Deep soak them every other day so the soil can dry out between waterings. The drying out is necessary for the root system as it helps drive the roots deeper to seek new water sources.  Plus, the time between waterings allows the roots to breathe (and yes, roots breathe!).  Oxygen is as important in plant roots as it is in our lungs. Want to learn more? Check out this great article from Science Line.
Phase Three
The third week, and through the rest of the first growing season, the plants will need to be deep soaked twice per week. You may need a third deep soaking if it's especially hot during the heat of summer.
Phase Four
Fall watering can be reduced further once the temps start to drop to 1 time per week.
Phase 5
Winter watering is essential. Some people think that snow will be enough water for plants, but that's not true! We do not get enough snow in our area to saturate the rootball when temperatures creep above freezing.  We've got a fun pro tip to help you keep your newly planted trees watered in the winter.  Fill a large cup (16 oz or more) with ice. Dump the cup of ice on your trees and shrubs. The ice will slowly melt and water your tree. How often you add ice depends on how warm of a winter it is.
The Second Year
Growing season #2 – plants still establishing, deep soak but less often
Phase 1.1
As temperatures start to warm up in early spring, it is a good time to start deep soaking your trees and shrubs.  The ground will likely be dry after winter, so a routine of 1 time per week is good to start in March.
Phase 2.1
Keep deep soaking your new trees and shrubs 1 time per week throughout this growing season. When the temperatures heat up in the summer you can add a second soaking.
Phase 3.1
Winter watering will still be necessary. Use our pro-tip ice trick and the same routine as last year.
**Sprinklers are designed to put out water in a manner that is wide but shallow watering.  This is fine for the grass or small plants but is not deep enough for trees or shrubs. The saturation from sprinklers only goes about 2-3 inches deep, but a rootball depth is between 8-20 inches.
Drip or emitter systems put out an average gph (gallon per hour), but this is not necessarily an accurate measurement of how much water is getting into the soil.  Emitters have a tendency to get clogged very easily.  Additionally, the water pressure through the drip system might be less than required to hit that gph, so even if you have increased the time it is running, it still might not be as many gallons as are needed.
So, that's the 411 on the 101 of watering.  Give your new plants the best start for establishing now and you'll have a healthy, vibrant tree (or shrub) for years to come.
And, as always, let us know if you have any questions.  We are here to help.
[/av_textblock]
[/av_three_fourth]
[av_one_fourth min_height='' vertical_alignment='' space='' custom_margin='' margin='0px' padding='0px' border='' border_color='' radius='0px' background_color='' src='' background_position='top left' background_repeat='no-repeat' av_uid='av-3yjgfy']
[av_sidebar widget_area='Sidebar Blog' av_uid='av-qtn89q']
[/av_one_fourth]
Other useful links and resources:
Watering Guide - 3 quick tips!
5 Ways to Reduce Water Waste in Utah
Congratulations! You bought the perfect tree, brought it home and found the exact spot for it. And now…….how the heck do you plant this thing?
We spent the afternoon planting trees with Ryan Glover from Glover Nursery. He shared a few tricks of the trade that will make planting the tree simple, accurate, and guarantee you are giving your tree (or shrub) the best start to growing.
1. Measure twice, dig once.
Know Your Depth
The tree (or shrub) should be planted no deeper than it is in the pot, or if it's BNB (Balled in Burlap), no deeper than the top of the rootball.  The root flare needs to be exposed, so planting it deeper will actually cause the tree serious harm and will lead to it dying.
Know Your Width
You want to dig the hole 1.5 times the width of the rootball.  Dig the hole wider than the pot as it will...
A. Help break up the soil making it easier for roots to grow
B. Be mixed with compost to give extra nutrients to the plant

C. Create good drainage so the rootball can be watered properly.
2. Roll your plant, don't drop it, into the hole.
When you pull the tree or shrub out of the pot, you want to be very delicate with the rootball.  If you drop it into the hole, you could cause serious damage to the roots and the plant will struggle to grow.  So, roll that plant into the hole, gently.
3. "True it up!"
"Truing up" your tree is done by adding a bit of soil underneath the rootball in order for it to line up straight before backfilling the hole.  You do not want to jump on the rootball to straighten the tree for the same reasons you do not want to drop it into the hole, it could seriously damage the root structure.  So, tip it left (or right, back, forward as is applicable) and add a bit of soil underneath to straighten it up.  Kinda like adding sugar packets under a table leg to stop if from wiggling.
4. Backfill with glee!
This is the fun part.  After patting Myke's onto the rootball, take your 30/70 ratio of compost to dirt and fill that hole up!  Pile up the soil into big mounds around the rootball, don't stamp it down (same reasons as in 2 & 3 for the rootball). Pile it up as high as it will go, all around the plant and then…..
5. Water it in.
This is the best trick in the world to getting that tree settled in straight, safe, and sound. Get your hose and turn it on a steady flow. Shove that hose right on down to the bottom of the
space you created around the rootball….then, just wait.  You'll see something very cool happen after a few minutes.  As the soil gets saturated, those air pockets around the rootball will bubble up and as they do, the piled up soil will fall into the area around the rootball. Like a miniature sinkhole, as it settles the soil securely without damaging those tender roots.
6. Enjoy!
While you will need to deep soak your tree (or shrub) on a regular basis for the next 2growing seasons, for now, kick back and enjoy the beauty of your perfectly planted new tree.
Shade, anyone?
Other useful links and resources:
The MOST Environmentally Friendly Christmas Tree
How Planting Trees Affects Air Quality
Hanging baskets can add vibrance to an otherwise dull and drab area. Fortunately, making your own hanging basket isn't as hard as it seems if you follow these steps and tips.  And, for something unique, we suggest putting perennials in your hanging basket this year.
1. Choose a hanging basket, or make your own.
Baskets come in different sizes and materials. You may choose from wicker, plastic, wire, or DIY baskets. Having a plant in mind for your basket is helpful as it makes it easier to determine your basket's ideal size.
2. Select a plant 
Colors and types of flowers will depend on your preference and creativity. Experiment with colors, scent, or a theme, but keep in mind to combine perennial plants that work well together. For instance, putting sun loving plants with shade loving plants is not going to work very well. This list of the best flowers for hanging baskets will give you some ideas on suitable flowers to combine.
When selecting plants,  you want to have a variety in your basket. We like to call it the key three; Thrillers, Fillers, and Spillers. 'Thrillers' ensure that your basket has height and a strong visual.  'Fillers' are those plants that will ensure your basket seems to be overflowing with flowers. And, 'Spillers'  are trailers softens the basket edges and gives a creative flair to your piece.
Glover Nursery, the best plant nursery in Utah, provides a variety of perennial plants to choose from, we have deliveries of fresh perennials coming in weekly.
3. The fun part: planting.
Set up a liner in your basket. Cocoa liners or super moss work well for wire-framed baskets. This is essential for regulating water retention in the soil. 
Place just the right amount of soil on the liner. We recommend four to five inches of soil from the base of the basket. 
Gather your plants once the soil is in place. Start by arranging the Thrillers in the center, then add the Spillers around the edge, and lastly fill in the remaining areas with the, you guessed it, the Fillers.  When placing the plants, be sure to look at the basket from all sides that will be visible when it is hung up.
Be as creative as you can get with arranging the plants. Play with color and a variety of flowers for added decorative detail. For a fuller-looking arrangement, you may opt to fill soil in between gaps. 
Once it's all planted, give that basket a good soaking to water in the plants and settle in the soil.  You may need to add some extra soil after the first watering to ensure the plants are nestled in securely.
Now you get to hang it!  On a tree, on your porch, or wherever you see fit. This beautiful new basket you created will instantly change the mood and ambiance of your home. 
After successfully making a perennial hanging basket, it is important to take note of the following steps to maintain its beauty:
Water the hanging baskets when they are dry.  If the soil is wet, they can skip a watering. 

Deadheading will promote more blooms, keeping your basket beautiful all season long.

Adding

fertilizers

will help promote growth and blooms. 

Make sure your basket gets the appropriate amount of sun or shade, depending on your selection of plants.
Make sure to visit our plant nursery in Utah for some of the best plants for your perennial hanging basket.
We look forward to seeing you.
Other useful links and resources: